Syncopation Software is pleased to announce the general availability of DPL Release 9. This release serves to underscore Syncopation's commitment to providing users with best-in-class decision analytic tools that improve performance, enhance interoperability, and give you insights that lead to better decision quality. Whether you choose the Professional, Enterprise or Portfolio version, we're confident you'll find DPL 9 the best decision analysis software tool you've ever used.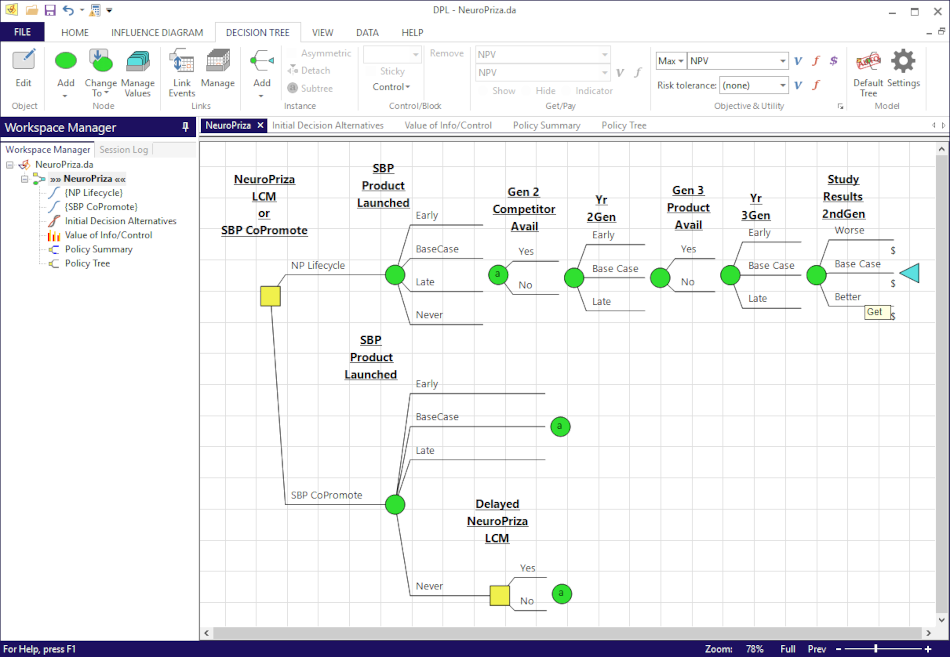 Some of the new features include:
Multiple Objective Functions
Multi-Selection in the Decision Tree/Influence Diagram
Parallel Endpoint Recording
Estimating Probabilities from External Data
Pruned Sequential Decision Tree
Preferred Modeling Mode Options
New Time Series Percentiles Chart
Graphical Output Improvements
Selective Attributes in Policy Tree™
64-bit Executable
XLSX Conversion
For a comprehensive list of features see:
https://www.syncopation.com/dpl-9-new-features
For an in-depth look at some of our major enhancements see our DPL 9 blog posts:
https://www.syncopation.com/category/tags/dpl-9
We encourage you to start analyzing your organization's strategic decisions today with Syncopation's powerful, yet easy-to-use family of Decision Tree-based decision and risk analytic tools. For over 20 years leading organizations have employed DPL analytics to help them more effectively quantify uncertainty, leverage risk, and generate alternatives and options – to make the best, most informed decision.
Syncopation Software offers a variety of analytic tools so you can "buy decision analysis by the yard" – getting exactly what you need for your application. From quick and simple risk and decision analyses on your business plan spreadsheet, to a rigorous, extensible risk and decision support system, to the allocation of investments across a portfolio of R&D assets – Syncopation is sure to have a solution that will help you to maximize the value of your most critical projects.
We're offering steep Release discounts on new and upgraded license purchases of the DPL 9 release from now until June 30th. More features means more savings! Use the follow coupon codes at checkout to receive the discount:
For 15% DPL 9 Professional: DPLPRO9
For 20% off DPL 9 Enteprise: DPLENT9
For 25% off DPL 9 Portfolio: DPLPORT9