DPL PORTFOLIO
Move seamlessly from project analysis to portfolio analysis!
Evaluating early-stage R&D and new product development opportunities requires powerful tools with the flexibility and transparency to help you and your team make the right decision with confidence. DPL Portfolio offers a robust set of analytical tools via a simple, intuitive environment.
For over two decades, R&D management professionals at top organizations have chosen DPL Professional for project evaluation. Why should you demand anything less from your portfolio analysis tool? Contact us today to request a live demonstration of DPL Portfolio!
Key features include:
Intuitive, graphical desktop application
Flexible modeling environment that lets you describe the project in your terms
Insightful, presentation-ready outputs
Readily available results: update all reports and charts with a single click as the portfolio evolves
Open system that easily integrates with Excel for financial calculations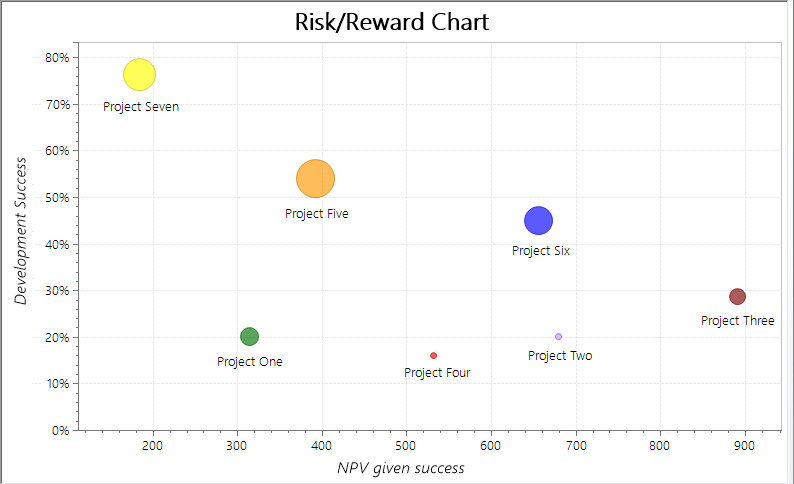 DPL Portfolio presents key information and insights to your portfolio of projects via clear, concise graphical outputs that can help you to:
Weigh your projects against a variety of metrics
Identify high risk/high reward projects and "sure bets"
Define "success" appropriate for your environment
Calculate custom metrics in order to better understand the make-up of your portfolio
Rank projects by "bang for the buck"
Select which projects to fund for any budget level
View projected free cash flow generated by the portfolio
Identify "revenue gaps"
Visualize how each project contributes value and risk to the portfolio as a whole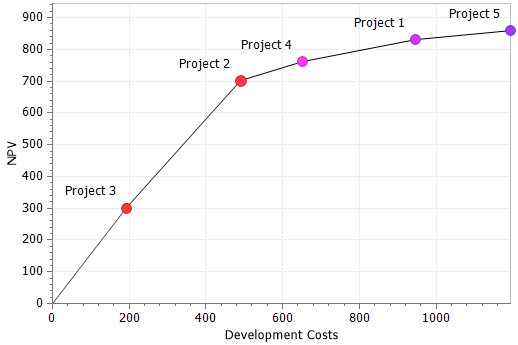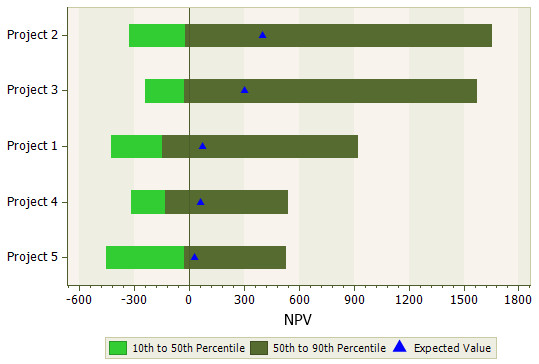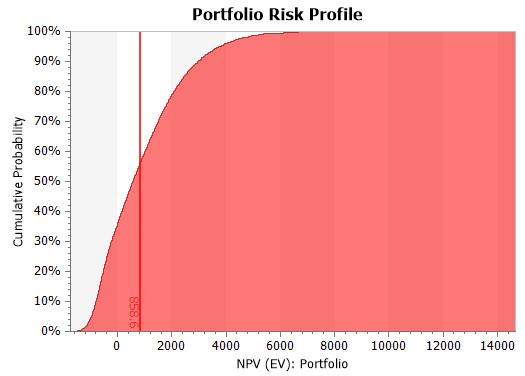 Based on the intuitive modeling environment of DPL Professional, users will find the following modeling features:
Intuitive graphical interface to develop decision tree/influence diagram model templates
All the flexibility and capabilities of DPL Professional
Ability to develop cash flow models in Excel for use in portfolio analysis
DPL's powerful and proven analytic engine for fast computation
Re-use of project templates for similar projects in your portfolio
Support for custom spreadsheets for projects with unusual cash-flow modeling needs
Ease of incorporating one-of-a-kind decision models
Rapid Implementation
Putting DPL Portfolio to work in your organization is easier than you think. Our portfolio implementation methodology has been tested at many leading organizations and is proven to be fast and headache-free
Hit the Ground Running
Have an immediate need? No problem, DPL Portfolio can be used right out of the box with data residing in ordinary Excel files stored on a server and the quick installation software running on client workstations.
Database Powered
For organizations requiring more data management, DPL Portfolio can be integrated with popular database packages. Database-powered implementations allow you to automate data updates, control access to sensitive data and maintain the version history of your portfolio.
Highly Customizable
Custom reports along with modifications to calculations, templates, and portfolio metrics are a simple business activity done via a straightforward desktop application – no coding required! The software is open, light-weight and transparent – there is no black box.