In just 10 days we'll be descending upon Philly, the City of Brotherly Love, to exhibit at what will be our 13th consecutive INFORMS Annual Meeting. In keeping with the spirit of the host city's motto, I'm setting forth some ways you can show Syncopation some "conference love" at this year's INFORMS:
Stop by Booth #1 and say hello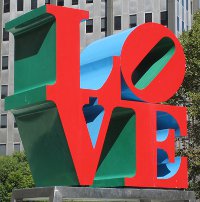 Some variation of the usual Syncopation team (myself, Chris Dalton, and Tony Manzella) will be available in the booth Sunday through Wednesday to discuss DPL and all things decision analysis. And if you were too busy planning your conference itinerary to eat breakfast, not to worry - we've got loads of M&M's that we don't want to have to ship back home.
If you're going to grab some swag, let us scan your badge
This year we're handing out sleek stainless steel water bottles, functional long-sleeve T's, and reusable shopping bags (made from recycled PET) – all branded with your fave DA tool (DPL, of course!). But please don't wait until you think we're not looking and slink off with swag without so much as a "hello"! In exchange for our awesome swag, we ask for a just pittance of interaction: a badge scan. We promise not to spam you – we'll follow up with you after the show to see how your conference went and kindly remind you of who gave you that high-quality swag.
Attend our DPMX Software Tutorial (Tuesday 1:30PM - TC79, Room 302)
At this year's tutorial, Chris and Tony will show you how the DPMX system can serve as the analytical backbone for your portfolio analysis process. We'll first touch on our veteran DPL Professional and DPL Portfolio versions, which provide the analytical power behind DPMX. Then dive into a motivating example in which DPMX, a web-based system for managing project data and presenting portfolio results in attractive on-demand reports, is leveraged to prioritize an R&D portfolio in the pharmaceutical industry. Let's fill the room!
Further to this, after the tutorial you can go to the DPMX product page and request a free 30-day trial to try the DPMX system out for yourself.
Participate in our Portfolio Prioritization Game (Monday 8:00AM - MA64, Room 113A)
This year Chris will be chairing a joint session on Dependencies in Pharmaceutical Portfolio Management along with long-time DPL fans Elayne Ko of Pfizer and Phil Beccue of White Deer Partners. One segment of the talk will feature an interactive portfolio management exercise in which small groups of participants will attempt to select the best portfolio they can from a pool of risky projects. Uncertainties are resolved through the session, so that a final portfolio value can be calculated. The winning team will receive a prize!
We look forward to feeling the love in Philly!