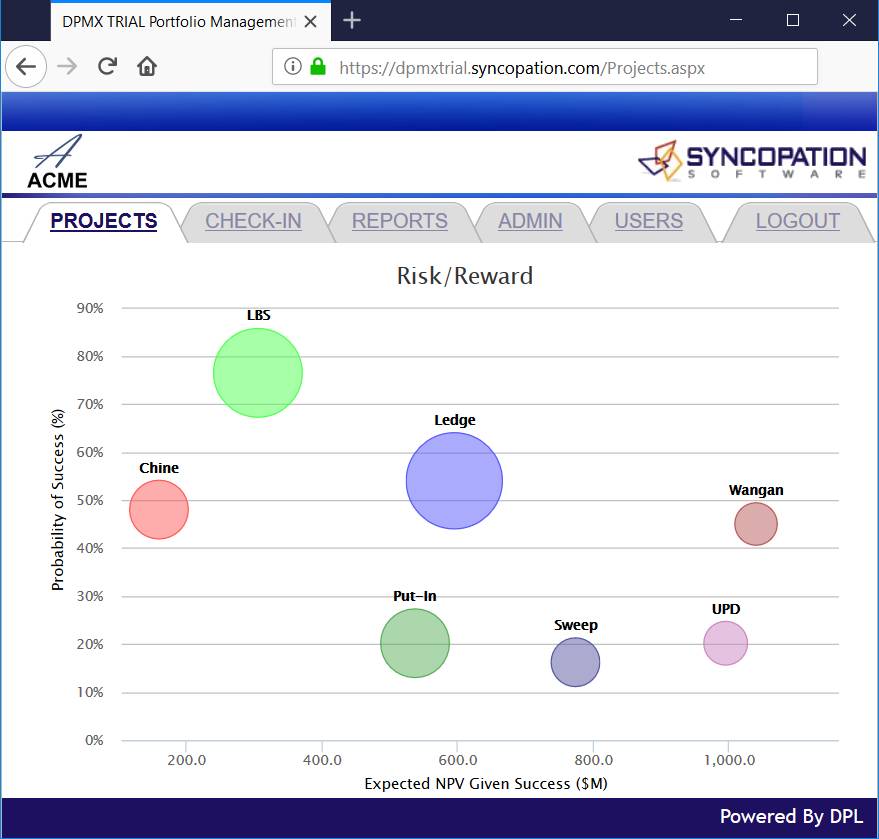 We've demoed it, presented it, blogged about it, even printed ads about it and now it's high time YOU gave the DPMX system a try! Syncopation is excited to announce that you can now access a FREE 30-day trial of DPMX, the solution for organizations with complex portfolios who desire rigorous analytics and prioritization based on decision analysis principles.
To request a trial simply submit the short trial request form at the top of the DPMX product page:
https://www.syncopation.com/products/dpmx
Once your request has been processed, you'll be provided with unique login credentials and instructions for accessing the trial through your web browser.
And in case you missed all the buzz about DPMX over the last year or so, here's the 411:
DPMX is a cloud-based, on-demand portfolio management system grounded in rigorous decision analysis principles and powered by proven DPL analytics.
Historically, our DPL Portfolio product has served as the analytical engine integrated into custom portfolio decision support systems. We've taken the key features of these custom systems and packaged them into a turnkey solution that can be deployed rapidly. The result is the DPMX System, which brings together:
Rigorous analytics based on DPL Portfolio, a class-leading decision analysis tool
Use of the familiar Excel environment for data entry and valuation calculations
A central intranet or cloud-hosted portal with extensive data management capabilities
Note, that we'd also be happy to schedule a live web demonstration of DPMX if that's more your style. If you have any questions, concerns, or comments regarding DPMX, please don't hesitate to contact us at sales@syncopation.com. We look forward to receiving your feedback in the coming weeks.