As the Marketing Coordinator (i.e., not programmer, analyst, consultant, etc.) at Syncopation Software, I'm the first to admit that I'm an amateur when it comes to business analytics and operations research. I've never taken a course relating to anything to do with business, advanced mathematics, decision science, operations research, etc. I've got a B.A. in Psychology and some of my favorite classes in college happened to be English Composition, Astronomy, and Abnormal Psychology.
Clearly, my place isn't at a talk called "Multi-layered Self-Calibrating Analytics for Big Data", my place is at the booth; answering questions, handing out swag and brochures, and, in general, getting the word out of the benefits of using DPL. But, as consequence of my historical natural tendency towards art, humanities, and social sciences, I do have some shortcomings when it comes to answering in-depth, technical questions about DPL and decision analysis as a whole as it applies to a variety of specific decision-problems. Of which, several inquiries of this variety were thrown my way during the INFORMS Analytics & Operations Research.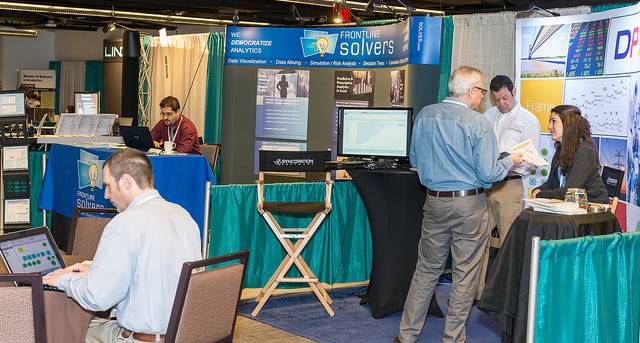 Most of the time I had back-up in the form of Tony Manzella and Chris Dalton, who've been with the software and within the industry since the early 90's and know everything there is to know about DPL as it applies to nearly every vertical, or horizontal for that matter. When I was thrown a whopper of a technical question I tended to step aside and listen intently to the answer that Chis/Tony supplied. It was my own personal course in mathematical algorithms, data science, and operations research all rolled into one 3-day conference. Below I've listed some questions and answers related to DPL that I miffed on at this year's Analytics Conference but will definitely be ready for in Round 2 (i.e., next year in Huntington Beach):
\
Q: Can DPL help (insert major global consumer products organization here) in the optimization of cheese supplies on an everyday operational level?
A: This one hits hard because I really love cheese but this particular application doesn't really play to DPL's strengths. DPL typically handles big, capital-intensive strategic decisions as opposed to numerous small, day-to-day operational decisions like this one.
Q: Are DPL's decision trees like CART trees?
A: No, they're totally different. CART tree tend to be used in data mining, where a decision tree describes and categorizes data but not decisions. DPL's decision tree's provide a formal structure for a decision and indicates timing for decision problems.
Q: What are the algorithms or calculations behind-the-scenes in DPL?
A: To calculate the expected value of the overall objective measure at each uncertainty of the tree, DPL uses decision-tree rollback which is supplemented with various optimizations that take advantage of the tree structure for a quick and efficient analysis.
Q: I see pictures Pharma and Oil & Gas here on your booth display, but what other types of industries/applications does DPL fit in?
A: This one seems easy, but Pharma and O&G are typical my go-to's for this type of question. But the answer is simple, DPL can be employed within virtually any strategic decision that involves a lot of uncertainty and has a value measure(s) that is to be maximized or minimized. Electric Power and Utility companies employ DPL for generation planning, those within the Consumer Products industry use DPL for new product development decisions, Industrial Products and Chemical organizations use DPL for M&A and capital investment strategies and Aerospace and Defense corporations employ DPL within their manufacturing and supply chain decisions, just to name a few.
Q: How would you differentiate yourself from your competitor, (insert Monte Carlo oriented software here)?
A: Glad you asked. We offer a standalone modeling environment, in addition to an Excel-side interface. Furthermore, we offer (and tend to favor) a decision analysis approach in contrast to Monte Carlo Simulation. Decision analysis can give you better flexibility when it comes to structuring uncertainties, defining dependence and explicitly considering alternatives. And consequently, DPL produces this awesome output called a Policy Tree™ within which you can drill down and see all possible outcomes of every scenario in the tree, providing a strategic road-map rather than a simple yes or no decision.
\
In closing, this was the first time Syncopation Software has attended INFORMS Analytics and Operations Research Conference. Personally, I found it to be a very challenging yet stimulating learning experience. As a company we found it to be an excellent venue for showcasing DPL. We were able to check-in with some of our longtime friends and also make contact with some attendees that had never heard of DPL whose organizations could greatly benefit from using a decision analysis approach to deal with the uncertainties of their business. We now look forward to INFORMS Annual Meeting in the hotbed of Decision Analysis that is San Francisco in November, and following it up with the Analytics meeting this time next year in Huntington Beach.