The US economy seems to have finally founds its footing, yet budgets for software training and associated travel costs remain at recession-level. At the same time, web based learning applications and technologies have taken off.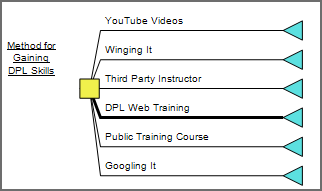 As I hope you already know, Syncopation produces DPL, a software product that helps organizations maximize the value of their business decisions. With the observations above in mind, it didn't take a rigorous DPL analysis (just this highly illustrative DPL doodle to the right) to come to the conclusion that if 1 - 5 users* within an organization would like to quickly and inexpensively gain essential DPL skills, DPL web training is – hands-down – the optimal decision policy. This post gives 3 big reasons why:
Convenience: Avoid the costly and infuriating process of airline travel and save those hotel points you've been squirreling away for a real vacation. To participate in DPL web training you'll simply click a link provided in an e-mail to install a lightweight, easy-to-use web meeting application** and then call a toll-free conference call number, all from the comforts of your own desk!
\
Note: This convenience factor grows exponentially for our non-US customers. And our instructors are happy to work around difficult time differences.
Value: With web training, Syncopation also avoids travel expenses and passes these savings on to you. The first DPL web training session for the first participant is priced at $595. Each subsequent training session (for first participant or otherwise) is priced at $295. Our only stipulation is that these subsequent sessions are purchased and participated in collectively.
\
Note: Each web training session is 3 hours long. We suggest participating in 6 hours of training to cover all of the essentials.
For an in-depth look at our web training sessions see: https://www.syncopation.com/dpl-web-training
And to top this off, we're offering 10% off all web training registrations made prior to January 31st!
Flexibility: There isn't a "set-in-stone" date for the training that we require you to work around. We'll work with you to find a mutually agreeable time that fits your schedule. And if an important meeting suddenly comes up on the day you're scheduled for the DPL web training, no worries! We can re-schedule usually with no money or training time lost.
Now, we are insistent on covering all of DPL's core features first. But the private nature of the course coupled with the fact that there is a living, breathing instructor allows for some flexibility in the content covered when we reach the more advanced topics. And if you want to take the last half hour of the training session to talk about specific decision problems within your organization, we'd gladly oblige.
The bottom line is in today's busy, budget-strapped world DPL web training is the mode that presents the most value for your time and money. Please contact sales@syncopation.com today to register for or learn more about our DPL Web Training sessions.
*If you're looking to get a larger group of users trained, our in-house training course is another great option and comes with many of the great benefits mentioned above.
**We use GoToMeeting for our web training sessions. The instructor will present slide materials that instruct then guide the trainee through real-world DPL modeling exercises.